Watch this space throughout the year for the latest news and events, press releases, and special behind-the-scenes features on the 2003 Jimi Hendrix Red House Tour.
2002.09.16
The debut release from The Jimi Hendrix Experience is widely regarded as the greatest, most influential debut release from any artist. When first released in 1967, Are You Experienced turned the music world upside down as Hendrix showed everyone exactly what it meant to be 'experienced.'
Since that astonishing debut 35 years ago, Hendrix's musical legacy continues to inspire and stimulate musicians the world over, both young and old, and across virtually every musical genre. As a result of Hendrix's trailblazing creativity and penchant for venturing into uncharted waters, you can hear Jimi's music or at the very least significant elements of his sound coming from every angle in the musical world. His music emanates in country (Junior Brown) to funk (George Clinton), from jazz (Kronos Quartet) to rock/rap fusion (hed (pe)), from R&B (D'Angelo) to worldbeat (Angelique Kidjo), and from folk (Dion) to rock (Kirk Hammett), and virtually every other style in between.
One major attraction to Hendrix's music undoubtedly lies in the fact that it stands the test of time. You can grab any of Jimi's albums today and they sound just as fresh and relevant today as they did when originally released more than 30 years ago. And for many, Hendrix's music is almost beyond description. Everyone who listens to Hendrix music today comes away with something different, and that is what perhaps sets Hendrix apart from all others - he is the "universal" guitarist who transcends incredibly deep, personal emotions from every person who experiences it. "Jimi's beautiful music not only transcends cultures but generations of fans of all ages and walks of life," explains Janie Hendrix. "His albums allow fans to partake in his music and lyrics and be inspired to blaze new trails of their own."
More than just an inspirational musical force, "Hendrix was an enigmatic player," explains John McDermott. "He epitomized an era of creativity and performance that no longer exists. Imagine a top artist walking out on stage with no set list, no pre-announced cues or pre-arranged encores and just playing what he feels. That's unthinkable today!"
It's a combination of all of these musical traits that has once again inspired Experience Hendrix to team up with Rob Hagey Productions who played host to our second annual Jimi Hendrix Tribute Concert on the streets of San Diego, California this September as part of the 19th installment of the San Diego Street Scene. Following in the footsteps of its Jimi Hendrix Tribute Concert at last year's Street Scene, Experience Hendrix enthusiastically accepted the gracious offer of show promoter Rob Hagey who invited the tribute concert and the 2002 Jimi Hendrix Red House Tour back to the city streets for an encore performance.
"Street Scene is an exciting opportunity for the family to join one of the hottest music festivals in the country," says Bob Hendrix. "Rob Hagey is undeniably one of the country's best promoters. He puts on a great show, ensuring that every little detail is taken care of, and has incredible support from the city and people of San Diego. Just as we experienced last year, the turn out for this year's event was great." With a three-day audience in excess of 100,000 people and a turn out eclipsing the 30,000 mark for the Saturday night tribute concert, Bob Hendrix is rightfully enthusiastic when he exclaims, "San Diego's music fans rock!!"
More than just a one-night tribute concert, the San Diego Street Scene also played host to the critically acclaimed Jimi Hendrix Red House Tour throughout the 3-day event. What follows in this special behind-the-scenes report is a three-part feature highlighting the festivities of this year's event.
For three days this past September 6-9, The Jimi Hendrix Red House Tour joined in the city-wide celebrations of the San Diego Street Scene music festival. Our sister-site, jimihendrix.com, offers an exclusive behind-the-scenes look at this huge annual event in a Special Edition of its popular Experience Hendrix magazine. Available now.
2002.08.20
SPECIAL NOTICE TO CUSTOMERS WHO HAVE PURCHASED A JIMI HENDRIX CLUB SHIRT FROM THE RED HOUSE TOUR BETWEEN APRIL 1 AND AUGUST 20
Due to a manufacturing flaw with a small number of the new Jimi Hendrix Club Shirts offered through the traveling Jimi Hendrix Red House Tour, some shirts have incorrect CARE & HANDLING tags attached inside. In some instances, the tags incorrectly advise that these shirts can be machine washed. ALL of our Club Shirts are DRY CLEAN ONLY and may be damaged if machine washed.
If you have purchased one of these Club Shirts from the Red House Tour and have washed your shirt and find that it is damaged, we will gladly replace your shirt on a direct one-for-one replacement. Please return your damamged shirt (with a copy of your original sales receipt) to:
Red House Tours, Inc.
Att: Club Shirt Returns
4603 N.E. University Village #588
Seattle, WA 98105
Tel: (425) 788-2095 :: Fax: (425) 788-4046
PLEASE NOTE: We will only replace shirts purchased through the Red House Tour. If you have purchased a shirt elsewhere, please return the shirt to your original point of purchase.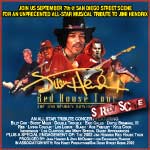 2002.08.06
Red House Tours, Inc, today announces that it will join up with Experience Hendrix's forthcoming all-star tribute to Jimi Hendrix at this year's San Diego Street Scene on Saturday, September 7, 2002. The all-star tribute performance will include performances by original Band Of Gypsys' members Billy Cox and Buddy Miles, Slash, Doyle Bramhall III, Les Claypool, Eric Gales, and a host of other very special guests. [ learn more about the Jimi Hendrix Tribute Concert ]
2002.04.02
Red House Tours, Inc., releases special promotional film that captures the music and excitement from last year's nationwide tour. You can view this special 3-1/2 minute film online by simply clicking on this link.
2002.04.02
Red House Tours, Inc., the company forged to produce and manage this year's event unveils the all new Jimi Hendrix Red House Tour Website at redhousetour.com. The tour site provides one-stop information on this year's North American tour plus special flashback editorial features focusing on the event's three year history commencing with its 1999 debut at Woodstock in Rome, NY.
{ END }