Red House Tour '99 is an interactive celebration of the music, life and legacy the world's most celebrated electric guitarist, Jimi Hendrix. With partners MCA Records, Inc., Mackie, Guitar World Magazine, Authentic Hendrix, L.L.C., Hendrix Records, Inc. and DistINKtive Inc. Screenprint, Experience Hendrix will join two of this summer's most anticipated live music events Vans Warped Tour and Woodstock 99.
Traveling down the highways of America, Red House Tour '99 will bring the music of Jimi Hendrix to an audience of more than one million people this summer. At each event, fans of all ages will be able to walk through a musical timeline of Jimi Hendrix's legacy and interact with the sounds of ageless rock anthems "Purple Haze" and "Voodoo Chile." A large screen video display will also feature newly restored live performance footage and a blazing digitally-remastered audio soundtrack highlighting some of Hendrix's most celebrated live concerts.
After fans experience the magic of Hendrix's live stage shows, they will be blown away when they enter the Experience Hendrix Immersion Theater. Teaming with 21st Century Audio with additional support from Crown International, Koss, Entech Corporation, Headroom, Acoustic Services Corp., Aura, Mitsubishi, TC Electronics Inc., Z-Systems and Troisi Design Ltd., our 24-seat, three-dimensional immersive audio theater will provide an opportunity to "kiss the sky." It's an experience that is guaranteed to have fans coming back for more.
TOUR COMPONENTS
Through the use of key technologies, Red House Tour '99 is geared towards the tech-focused, youth-oriented market. These high profile exhibits will guide participants through Jimi's music and influential legacy on pop culture.
The base presentation, consisting of a museum-like setting spans more than 3200-square feet and will consist of four core interactive and visual elements, including:
RED HOUSE TOUR TRUCK
Designed specifically for Red House Tour '99, our 53-foot truck/trailer combination will travel the highways of America, bringing the music of Jimi Hendrix to more than 30-cities throughout the summer months.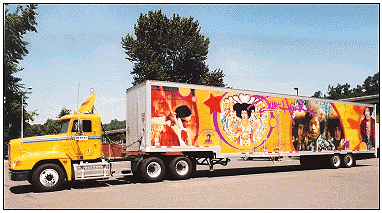 JIMI HENDRIX 3-D SOUND THEATER
Our 200-square foot soundproof 3-dimensional sound theater immerses the audience right into Jimi Hendrix's music. Blocked into 15-minute presentations, the Jimi Hendrix 3-D Sound Theater will run continuously throughout the day at each stop along the tour. Sponsored by 21A, Monster Cable, Mitsubishi Electric, Acoustic Sciences Corporation, Koss, Crown International, Aura, HeadRoom, Audio One, Troisi Design Ltd., Sony Pro Audio, T.C. Electronic, Thermodyne International Ltd., Paradise Sound Recording, Inc. and Z-Systems Audio Engineering.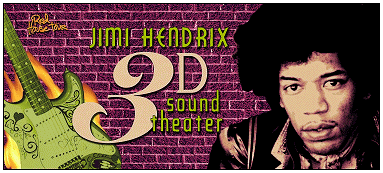 LARGE SCALE VISUAL DISPLAY SYSTEMS
Red House Tour '99 will feature a museum-like presentation display featuring more than 720 square feet of visuals depicting the stories and artwork behind many of Hendrix's most popular releases.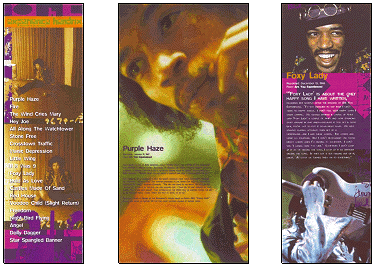 Also included in the Red House Tour '99 presentation environment will be two large tented-dome that will feature interactive audio presentations, which allow participants to interact directly with many of Jimi Hendrix's songs.
Each tented-dome will also include display cases featuring several of the guitars and fashions that Hendrix made famous during some of his most incendiary performances.
At each stop on Red House Tour '99, a full line of Jimi Hendrix merchandise including music and video releases, t-shirts, posters, and much more will be available for purchase.

---
WOODSTOCK '99
The 1999 debut of the Jimi Hendrix Red House Tour was highlighted by an open invitation to participate on the 30th Anniversary of the original Woodstock Art & Music Fair. In July '99, the Red House Tour truck and crew embarked on an extended stay at the Rome, NY location of the Griffis Airforce Base which would house the music spectacle.
By the time doors opened for the four day event, lines were long-and stayed that way-throughout the weekend at Woodstock '99 as concertgoers waited to experience the Jimi Hendrix 3D Surround Sound Theater. Some even brought chairs and coolers with them to endure the heat and await their turn. "I have every single one of Jimi's albums," proclaimed one excited fan from Ohio. "I don't care if it takes a few hours to get in there." With heavy crowds and temperatures nearing 100-degrees with heavy humidity, the 3D Sound Theater offered its patrons just under five minutes of rockin' music in an air-conditioned environment.
Also on display at the 3200-square foot exhibition were several of Hendrix's stage costumes such as the "Butterfly" outfit, a paisley jacket, and the famed British military (Hussars) jacket. Also on display were several guitars including the Fender Monterey Pop Stratocaster, Jimi's first guitar (1957 Supro Ozark) and second guitar (1956 Danelectro) complete with biographical and photographic evidence of the gear in use. People gathered to get a glimpse of these legendary belongings and take pictures of each other in front of them along with the many other large portraits of Hendrix and The Experience-"take a picture of me with Jimi at Woodstock," was a very common exclamation throughout the weekend.
Hendrix fans also crowded the merchandise counters, wanting to purchase their share of the authorized Hendrix merchandise available on site in lieu of the traditional Woodstock '99 fare offered elsewhere. Many spent a great deal of time as well in front of the widescreen videos that presented key live performances from throughout Hendrix's career. People danced, played air guitar, and held verbal court as they all recounted their love and admiration of Hendrix's life and music. Each evening a number of ardent Hendrix followers even chose to campout next to the video images of Jimi-who they considered to be the "real Woodstock performer" for the entire weekend.

{ END }